Outdoor percussion is becoming increasingly popular within schools and councils. It offers children and adults something new, fun and educational. Here at Normans we offer the range from leading manufacturer of outdoor musical instruments, Percussion Play.
Percussion Play's outdoor musical instruments make perfect additions to an abundance of settings. Bringing music to parks and playgrounds. Allowing kids and adults to realise how truly gratifying it is to make music together.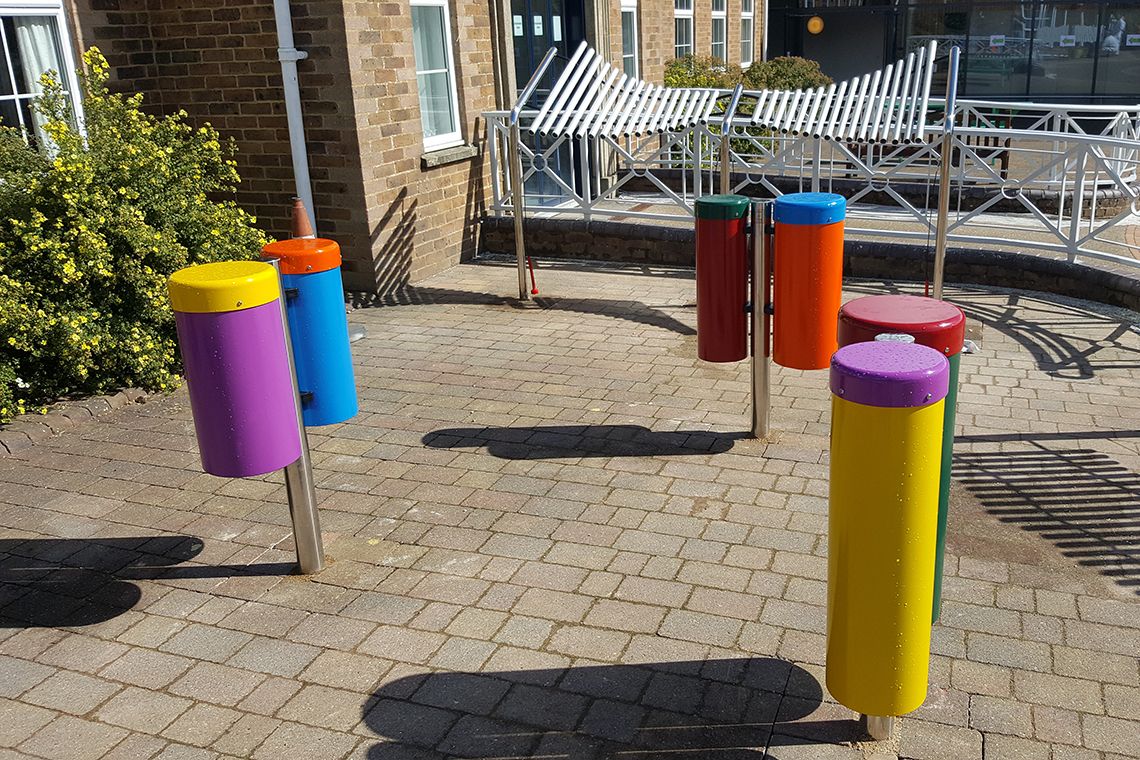 This fantastic set of pentatonic chimes will be the perfect addition to any playground or other outdoor environment. Allowing children to explore sounds around them even when they're outside. The soprano pentatonic set consists of 5 chimes that have a great quality sound and can be played with a variety of beaters. Percussion Play Freechimes come supplied with backboards and legs for ground installation. Each one of the aluminium chimes is sleek and lightweight. Tuned to give them a pure, resonant and  enjoyable sound.
The Soprano Quartet Ensemble set is the ideal choice if you are on a budget. A set capable of withstanding tough weather conditions and provide easy ground installation alongside being fantastic educational aids and providing a great sound. This set includes a Cadenza, small Babel Drum, Soprano Pentatonic Freechimes and a pair of medium Congas.
Designed for outdoor installation, fun and colourful conga drums will bring African rhythms to your playground. Thanks to their robust construction and durability, they can be fixed directly into the ground.
The set of congas includes a trio of drums in small, medium and large sizes. Allowing numerous players to enjoy making music at the same time. Different sized drums will also produce a different tone. Not only do they look and sound great, congas can be the perfect introduction to music and a fantastic tool to develop a great sense of rhythm. They are popular with education as well as music therapy and are suitable for musicians of all ages.
This paragraph is taken from Percussion Play. I think sums up their love of music and their instrument range perfectly –
"Music is found in every known culture, past and present and has evolved to become a fundamental component of human life. Differences in age, gender, ethnic or linguistic background have no place in music and obstacles present in other activities defined by motor and mental ability are absent where music is concerned. Music is naturally the most universal language at our disposal and everyone has the potential to make music."
You can see the full range here.